A style is described as armour-like when it possesses the qualities of protective clothing. As fashion itself is often considered armour, something to help survive the reality of everyday life, as the late Bill Cunningham had said, designs such as 's are especially compelling when one is feeling particularly vulnerable.
Brands: Alaia, Alexander McQueen, Balmain
AVANT-GARDE
Avant-garde is defined by introducing new and experimental ideas and methods, and takes some profound oppositional stance or is a rejection of the status quo. It rejects convention in some way and challenges what's acceptable. Avant-garde appeals to creatives, intellectuals, those who grasp abstract concepts, but most importantly to non-conformists - those who don't like to neatly fit into a box.
Pictured: Design by Sarah Ryan
Brands: Gareth Pugh, Rick Owens, Yohji Yamamoto
C
CONCEPTUAL
Conceptual fashion prioritizes communicating concepts over aesthetics and function. It speaks mostly to creatives and intellectuals - unsurprisingly, those who appreciate concepts and score high on what psychologists call 'openness to experience'.
Pictured: Viktor & Rolf SS10
Brands: Commes Des Garcons, Maison Margiela, Viktor & Rolf
CONVENTIONAL
For all the fanfare about innovation and creativity, conventional fashion appeals to many. Conventionality, defined by 'based on or in accordance with what is generally done or believed', is an element many find comforting and reassuring in today's turbulent ever-changing times.
Pictured: Monique Lhuillier
Brands: Carolina Herrera, Oscar de la Renta, Ralph Lauren
COOL
Cool resists linear structures, and is a nonconformist balance - the paradoxical person, or outfit that is never too much of one thing.
Brands: Alexander Wang, Balenciaga, Balmain, Vetements
COZY
When we say something is 'cozy', its texture not only brings material comfort, but emotional consolation as well. Feeling out of sorts? Go for knitwear, the sartorial hug.
Brands: Loro Piana, Max Mara, The Row
F
FLIRTY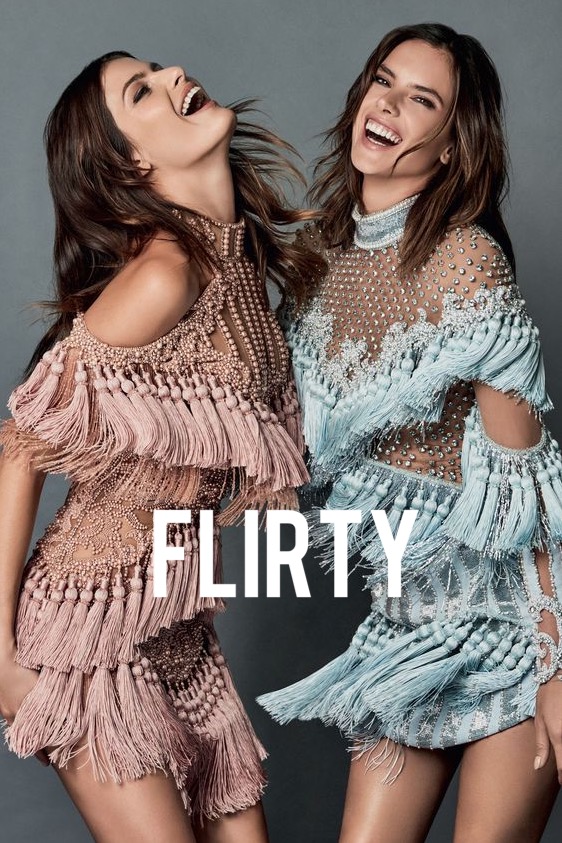 What makes a design flirty? In an attempt to understand, we look to Alain de Botton's definition of a good flirt. "A good flirt must carefully convince us of three apparently contradictory things: that they would love to sleep with us; that they won't sleep with us; and that the reason why has nothing to do with any deficiency on our part."
Pictured: Vogue Brasil October '16
Brands: Balmain, Roberto Cavalli, Tom Ford
L
LATIN
Ruffles, oversized details, color, flounce, balloon sleeves, volume and A-line shapes are all interpreted as Latin influence within designs. These elements originated in Spain, but were further developed in the tropical climates of the Americas as part of traditional costume. Romantic, exuberant and dramatic, they hint at a warm blooded and slightly neurotic nature.
Pictured: Johanna Ortiz Resort '18
Brands: Esteban Cortazar, Johanna Ortiz
M
MELANCHOLY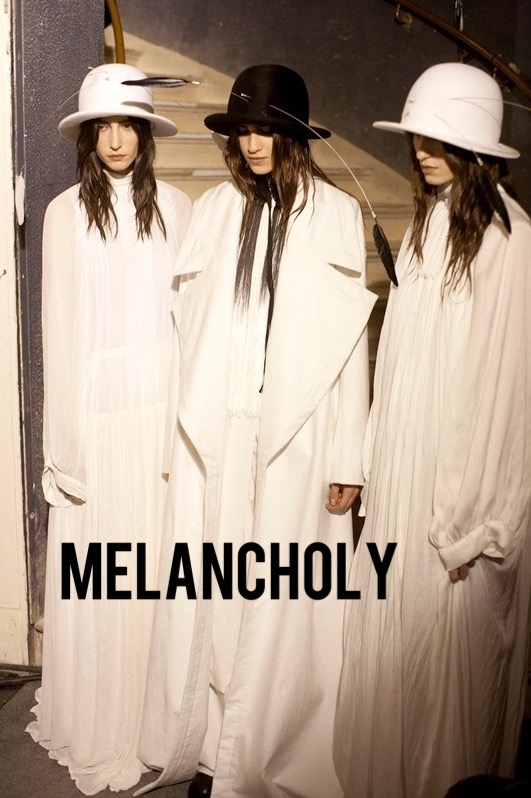 While some would assert that fashion should be "fun", our most celebrated designers often deliver collections that can only be described as 'melancholy'. And there is a great case for it. Even the best lives are not immune to melancholy, and it contributes greatly to our development. It is a valuable experience because it links the darker truths of the human condition with beauty.
Pictured: Ann Demeulemeester AW13
Brands: Ann Demeulemeester, Gareth Pugh, Rick Owens
O
OFF-DUTY
The term 'off-duty' generated from the street style of models in between shows and now applies to all casual not-suitable-for-work wear such as hoodies and cashmere track pants. Above all, off duty taps into our desires to return to the leisurely state if childhood, when we were unencumbered by duties and tasks.
Pictured: Freja Beha Erichsen in Paris
Brands: Alexander Wang, Rick Owens
P
PINK
Bright pink elicits an exciting, playful, high-energy, stimulating and modern mood, while light pink is romantic, affectionate, compassionate and youthful. It can also be too sweet, sentimental, and seen as weak or immature.
Brands: Giambattista Valli, Molly Goddard, Roksanda
POETIC
Anything poetic is by definition "having an imaginative or sensitively emotional style of expression". The gauzy yet tight accordion pleats and arm ties in white on this design exude poetry in motion and sense of elevation because of the lightness and frailty of the fabric, as well the considered design details. Elevated clothes, elevated thoughts.
Brands: Alberta Ferreti, Chloe, Giambattista Valli, Valentino
PRACTICAL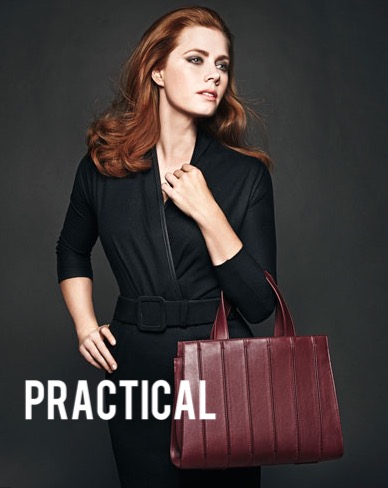 At the opposite end of the spectrum from romantic, sits practical. The practical personality is less swayed by their feelings. The believe in rules, politeness, decorum. Unlike the romantic's love of fluid silhouettes and flowing fabric, the practical likes angular lines, structure and more regimented, authoritative designs. It's normal to go up and down the spectrum during your life. Getting carried away romantically will almost always have you reaching for a good blazer.
Pictured: Amy Adams for MaxMara
Brands: Akris, Carolina Herrera, MaxMara, Ralph Lauren
R
ROMANTIC
"Romantic" is often used to describe a look or a collection. But what makes someone a romantic? Romantics are people who value spontaneity over rigidity, instinct over thinking, and honesty over politeness.
Brands: Chloé, Giambattista Valli, Valentino
S
SATIRICAL
Satire: the use of humor, irony, exaggeration, or ridicule to expose and criticize people's stupidity or vices. Vetements' success is owed to the fact that many consumers were feeling a bit drained from the fetishizing of luxury goods. Red-soled Louboutins? How about lighters for heels?
Brands: Balenciaga, Jeremy Scott, Moschino, Vetements
SEXY
Looks that are sexy make you feel desired and most importantly, alive. Eroticism has always been an antidote to death. It's not unusual to want to look sexy after a period of spiritual deadening (commonly referred to as a "rut".)
Pictured: Tom Ford for Gucci '02
Brands: Emilio Pucci, Roberto Cavalli, Tom Ford
SUBVERSIVE
Subversive means "seeking or intended to subvert an established system or institution". Interestingly, subversive fashion, or anti-fashion, has gone from niche to an increasing level of status quo. While it may be easy to presume that subversive fashion appeals to those with a rebellious spirit or lifestyle, it's often those with a rather conservative life history that are drawn to subversive brands. Perhaps, they correct an imbalance.
Brands: Balenciaga, Commes Des Garcons, Rick Owens, Vetements, Viktor & Rolf
V
VULNERABLE
When we're vulnerable, we hide. Fear causes us to keep our authentic emotions hidden, and wear a mask to face the world as a means of protection. Few conceptual brands understand this as well as Maison Margiela, whose couture Artisanal collections take this notion literally and often show looks with masks.
Pictured: Maison Margiela Artisanal AW12
Brands: Alexander McQueen, Haider Ackermann, Maison Margiela